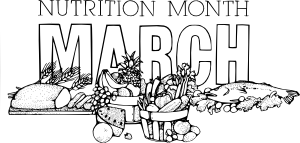 Welcome to Foodthusiasm! And welcome to National Nutrition Month. The American Dietetic Association would like us to recognize March as National Nutrition Month, a month to learn about eating right.
Although nutrition is a small part of our formal education growing up, it is also the most important part of our education. Learning to eat right and embracing healthy dietary guidelines should be first and foremost in our minds everyday.
Why is nutrition important? It sustains us daily. It is the difference between a healthy lifestyle and a stagnant lifestyle that leaves us lacking a motivational spirit.
Stand out in a crowd and make a difference nutritionally. Get all the nutrition facts you can and start making positive changes in your life today.
For more information visit www.eatright.org. It's time to build nutrition from the ground up, let's practice some foodthusiasm!
No related posts.